The 2018 Subaru Legacy Is a Reliable, Stylish, and Modern Option for Drivers in Hudson, Nashua and New Hampshire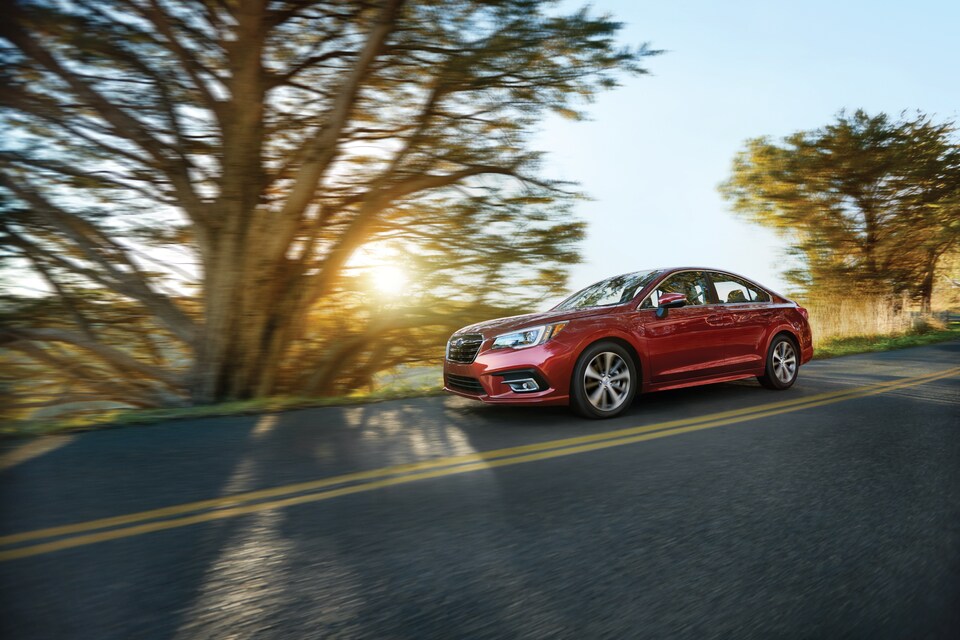 Subaru vehicles have long been known for their abilities on the roads of New England, and for their modern aesthetic. The Subaru Legacy is no different. Thanks to its gorgeous exterior design, its refined interior layout, its incredible performance capabilities, and its cutting-edge safety technology, this sedan is very popular and extremely reliable on the roads of Hudson, Nashua and all around New Hampshire and northern Massachusetts.
The 2018 Subaru Legacy is a modern example of precise automotive design, bringing together the performance and safety benefits you love with a modern aesthetic and cutting-edge technology.
If you are in the market for a new vehicle, or if you are interested in learning more about the options that are available to you, then we invite you to learn more about the 2018 Subaru Legacy.
Precisely Designed Exterior; Refined Interior Layout
The moment you see the 2018 Subaru Legacy, you will understand why so many drivers have fallen in love with it. With a sleek, and aerodynamic, exterior design this vehicle can easily slice through the wind while turning heads at the same time. Furthermore, thanks to its sharp accents, its smooth curves, and its confident aura this vehicle has the ability to command the road with grace and authority. 
Browse all the new Legacy sedans in our Hudson, NH dealership here!
When you get behind the wheel, you will truly understand the allure of this vehicle, though. The seats have been specifically designed to provide you with comfort, whether you are taking a ride down the road or you are embarking on an extensive road trip.
Furthermore, the interior layout of the vehicle is highly accessible and comprehensive. All of the interior features you need are easy to find, and easier to utilize when you are on the road.
There is also plenty of interior space -- for passengers and for cargo -- so that you can travel in comfort with the people, and the items, you need.
Reliable Performance Meets Advanced Technology
Subaru vehicles have always been known for their reliable performance abilities. The 2018 Subaru Legacy is no different.
Among this sedan's impressive abilities are its excellent fuel economy (34 highway mpg), a respectably powerful engine (256 horsepower), standard symmetrical all-wheel drive, and much more.
All of these performance abilities are augmented by cutting-edge safety technology. This includes a pre-collision braking feature, blind-spot detection, a rear-vision camera, and the Subaru Starlink Safety and Security system, among other features.
All of this is to say that the 2018 Subaru Legacy does not just look the part; it is every bit as impressive in its looks as it is in its performance.
The 2018 Subaru Legacy comes in five different trim levels, which provide you with different features and abilities on the road. They are:
Subaru Legacy 2.5i
Subaru Legacy 2.5i Premium
Subaru Legacy 2.5i Sport
Subaru Legacy 2,5i Limited
Subaru Legacy 3.6R Limited
Want to Learn More About the 2018 Subaru Legacy in Hudson, NH?
We know that the search for a new vehicle is as important as it is arduous. You want to find a car that will complement your driving style and your needs while remaining a stylish and modern example of automotive design. In other words, you want a car that will be reliable and stylish in equal measure. That is where the 2018 Subaru Legacy comes in, and excels. 
Find new Subaru Legacy lease offers and specials at Prime Subaru here!
If you would like to learn more about the 2018 Subaru Legacy, or if you have any questions pertaining to its abilities on the road, we invite you to visit us at Prime Subaru in Hudson, NH. Our team would be happy to assist you with all of your automotive needs.
Visit us today, and our team will be happy to assist you with all of your automotive needs, whether you are purchasing a new vehicle or servicing your current Subaru vehicle.
We are proud to serve drivers throughout Hudson, NH and Nashua, NH and nearby Lowell and Chelmsford, Massachusetts
Your privacy is important to us.
Prime Subaru takes your privacy seriously and does not rent or sell your personal information to third parties without your consent. Read our privacy policy.